The Premier Global
Microsoft Solutions Provider
Strategix is a direct Microsoft CSP software licensing provider and Microsoft Dynamics Gold certified implementation partner.
Headquartered out of South Africa and possessing more than 17 years' business solutions experience, with a client footprint in 60 countries on 6 continents, Strategix now has a presence in the UK extending our reach into the European region.
Transform Operations
with Dynamics 365
Unify all your business operations with a single scalable, and adaptable
business solution that fits your needs the best. We help you redesign
end-to-end processes and drive real growth – powered by the cloud!
Dynamics 365 Finance & Operations
Business Intelligence for Everyone
Everyday Effortless Tasks
Affordable Cloud Performance
Strategix Group comprises three companies specialising in:
Strategix Business Solutions (SBS)
Microsoft Dynamics Gold Partner & Cloud Solution Provider (CSP Direct).
Strategix Technical Solutions (STS)
VMware Premier Partner & Cloud/Managed Services.
Strategix Application Solution (SAS)
Governance Risk & Compliance.
Strategix Group comprises 3x companies specializing in Microsoft Business applications, Governance Risk & Compliance and VMware with a managed services component.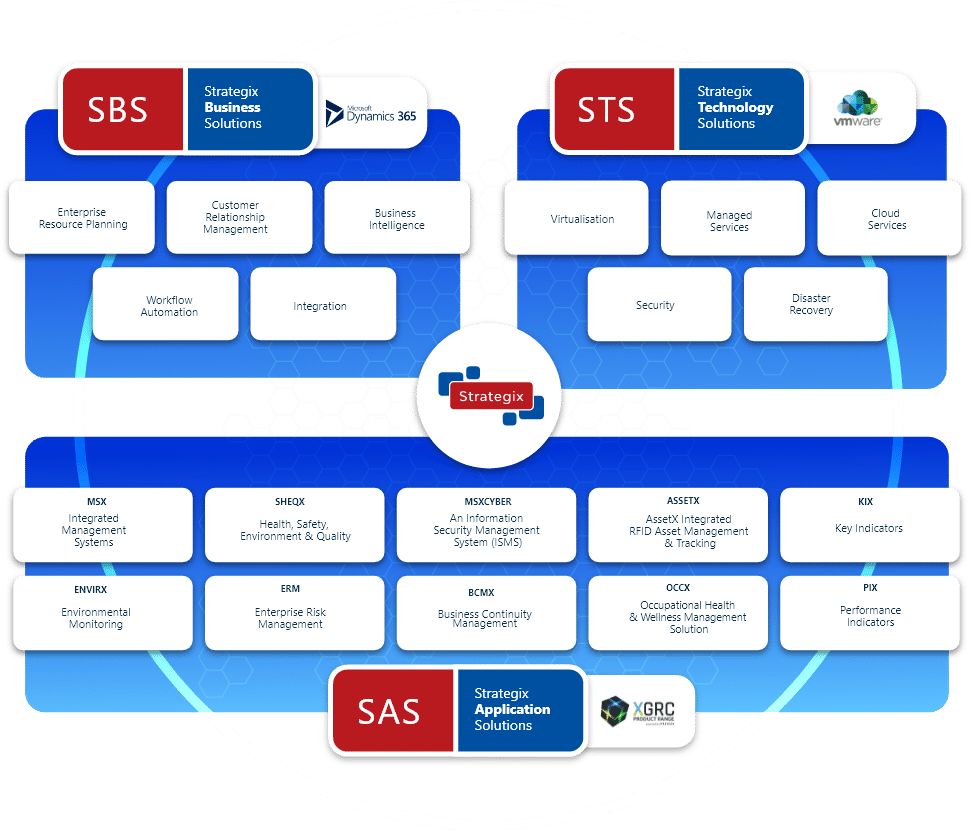 SBS
Strategix
Business
Solutions
Enterprise
Resource Planning
Customer
Relationship
Management
Business
Intelligence
Workflow
Automation
Integration
STS
Strategix
Technology
Solutions
Virtualisation
Managed
Services
Cloud
Services
Security
Disaster
Recovery
SAS
Strategix
Application
Solutions
MSX
Integrated
Management
Systems
SHEQX
Health, Safety,
Environment & Quality
MSXCYBER
An Information
Security Management
System (ISMS)
ASSETX
AssetX Integrated
RFID Asset Management
& Tracking
ENVIRX
Environmental Monitoring
ERM
Enterprise Risk
Management
BCMX
Business Continuity
Management
OCCX
Occupational Health
& Wellness Management
Solution
PIX
Performance
Indicators
Our operational model is highly cost effective as result of operating from a low-cost base, having our customers experience the tangible investment savings.
We have been solving business problems for almost two decades.
Strategix holds an impeccable global project track record in the SME and Enterprise space.
Our CSP (Cloud Services Provider) status enables us to manage customers' comprehensive Microsoft software licensing environments and reduce costs.
We understand, interpret, and translate business requirements
into tangible business benefits.
Having implemented business management solutions in 60 countries on 6 continents, we impart extensive industry knowledge and best practise.
Our approach is simple, methodical yet agile when needed as we progress your operational optimisation program and digital transformation journey.
A direct CSP provider, managing tens of thousands of Microsoft licenses globally.
Providing trusted advice and guidance in business platform and application selection.
Understanding and documenting business requirements through analysis sessions.
Crafting solutions around business strategy and operational requirements.
16+ years' experience successfully deploying SureStep methodological projects.
Highly skilled in-house resources to adapt any business application's functionality.
Platform-agnostic experts capable of performing integrations to any systems.
Engaging executive sponsors, stakeholders, users, and consultants to ensure alignment.
Enabling user adoption and empowerment through knowledge acquisition.
A dedicated help desk backed by a certified and knowledgeable team.
Ensuring that continuous value is driven within your environment.
Get to know the Strategix team