As a business owner, the focus of your day-to-day will most likely be mostly on bottom-line, and whether there's a continued healthy forecast for consistent growth.
But because of the dynamism of commerce today – the hyper speed potential of business, in a global market that can be tapped into from anywhere, anytime – it can be tricky to keep track of your business's impact and market standing.
As you focus on profits, your people and customer interactions, how can you also know what to change to meet shifting market demands? How would you know how to stay agile, competitive and relevant every hour of every day? You need a window into the inner machinations of your business.
Strategix has that solution.
Introducing, Microsoft's Power BI. A unique 360-degree view of your business.
What is Power BI? Let's get into some detail here.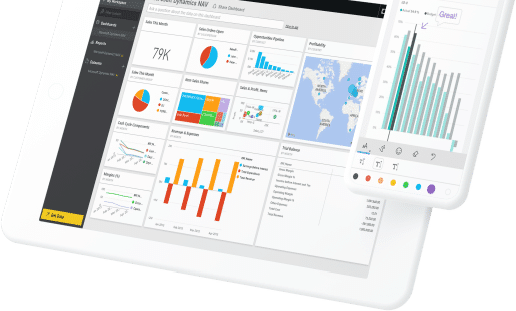 Microsoft's Power BI, essentially, is a suite of business analytics tools.
At Strategix UK, we offer the Power BI Business Analytics Tool, which can create interactive data visualization and a great analytics tool for business intelligence. With it, you can plug processes and operational information relevant to your business into a beautiful digital interface.
Then, using a unified dashboard, you get rich insight into the crucial data that's telling the story of your business.
With that insight, you can deftly adjust to be agile in the market, and you can make the decisions that will keep your business on a continued profitable journey.
How Power BI Works and Benefits You
Power BI is a powerful tool that connects to various sources and provides dashboards for business intelligence, helping you find insights into your business data. The Power BI business intelligence tools are all accessible through an online portal or desktop software that we can provide for you.
Data Discovery and Visualisation with Power BI
Your business, being the living, breathing entity it is, is perpetually creating data related to the components that keep it forging ahead – revenue, market performance, inventory, staffing, costs. That's just to name a few.
Our Power BI business analytic tool turns those numbers into coherent visuals that help you understand what the data means, so you can make informed decisions across all facets of your organisation.
Using Custom Visualisations in Power BI Desktop and online
Relevance and profitability in a market, relies on a business's ability to adjust to the demands of that market, and then to align in laser focus with the potential customers looking for what it is you provide.

Power BI gives you insights to help you shift towards higher profits and growth
– and all within a customisable dashboard.
Here's what you get:

Go from data to insight to action, quickly and seamlessly.

Simplify and secure data management.

Know everything about your business, all the time, by drilling into the details.

Get access to your data on any device and bring your apps to life, any time.
The Power of Data Visualisation in Business Intelligence
Your business isn't simply a top-level organisation
that provides a product or service, to make a profit.
It's a deeply complicated unit that fills a need in a market by way of detailed processes, knowledgeable people, world-class marketing, and always-on communications.
All of these features provide their own detailed datasets that, when mined and interpreted right, instil the power of insight into each and every level of your business, and what it needs to function even more effectively.
Here's what you can do with Power BI:
Microsoft Office
Integration
Combine data from multiple files, and export that data as beautiful visuals directly to PowerPoint, for even more engaging presentations.
Scale operations as you need, using a range of extensions from AppSource, like Customer Service, Finance, Field Service, Operations, Marketing and Project Automation.
Access and organise data on-the-go with Power BI in the cloud.
Visualize your data like never before with Power BI. Contact us to learn more about our offerings and pricing.
Data is power, and data visualisation puts that power into your hands by giving you access to your business's very soul.
Let it reveal its inner workings through the unfailing accuracy of the numbers. Then, through customisable visuals and easy-to-read dashboards, Power BI can turn that data into a very compelling story for you – one that you can use to adjust to increased profits and growth.
It's Business,
Simplified.
Do you know what the best
PowerBI Solution is for your business?
"*" indicates required fields